BAL FZ and BAL 40 Bushfire Roller Shutters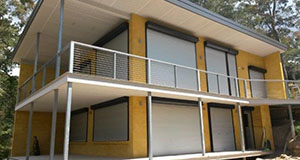 Flamezone Stainless steel BAL FZ  shutters have been in production since 2019.  New homes and renovations in bush fire prone areas are required to comply with new BAL rating levels. A certifier will usually be required to sign off and give the building final approval prior to occupation. It is strongly recommended for BAL 40 and BAL FZ ratings the owner or builders discuss options with us prior to commencement of building.
Two common ways that a house is destroyed by bushfire:
Heat causes the windows to explode or enough heat is radiated and magnified through the glass to cause curtains and furniture to burst into flames and soon the house is on fire.
Strong winds will often carry debris that will shatter windows long before a fire arrives. Sparks and embers then enter the building through broken windows and doors.
A Solution
Covering the glass areas of a home with bush fire roller shutters will reduce this from happening and potentially save the house.
.
How can Rollashield Shutters help?
We provide information, advice, installation certificates and quotes. We work with you to achieve a complying solution in bush fire situations.
BAL FZ Rating – Rollashield Flamezone bushfire BALFZ-82 shutter is tested and proven with a standard window to comply with AS3959-2009 and AS1530.8.2 (2018) by CSIRO in 2019.  Manufactured in Sydney Australia.
Rollashield recommends using Forceshield Commercial Roller Shutters for protection up to BAL 40. In 2010 the CSIRO successfully tested Double-Wall Extruded Aluminium Roller Shutters to BAL 40 to meet AS1530.8.1-2007
NSW RFS will release (PBP2019) planning for bushfire protection 2019 in September 2019 to ensure consistency in building standards on bush fire prone land in effect with the National Construction Code and AS3959:2018
What are the Requirements?
Following the devastating 2009 Victorian bush fires and Black Saturday, the 2010 Building Code of Australia (BCA) and the amended Australian Standard AS 3959-2009 was set in place.
There are six bush fire attack levels that are used to determine the appropriate construction to be applied
BAL-LOW
BAL-12.5
BAL-19
BAL-29
BAL-40
BAL-FZ
Are Roller Shutters effective in Storms?
Rollashield perforated and non-perforated shutters protect your windows from Storms.
Category 3 Cyclone rated AS1170.2-1989. Sound transmission Class 39 As 1276-1979
Rollashield Storm Shuttters will reduce condensation on the inside of your windows and provide protection from the outside temperature affecting the inside temperature.
The insulation of the shutter together with the air gap between the shutter and the window enhances this effect
Summary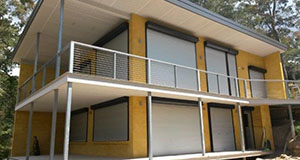 Author Rating





Brand Name
Product Name
Bushfire Resistant Shutters