Slimline Home Security Roller Shutter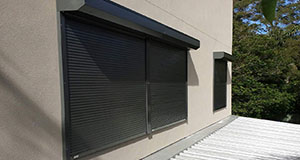 Rollashield Slimline and Forceshield Aluminium Shutters protect your home, your valuables, your furnishings, your family and yourself. Rollashield Shutters are a positive visible deterrent to intruders and vandals.
Enjoy your view and your lifestyle with peace of mind!
Rollashield Aluminium Shutters on your windows form a shield around your home against intruders, noise, heat, glare, storm and hail damage. They're designed and manufactured in Australia using marine-grade heavy duty aluminium for maximum strength and durability to suit Australian conditions.
Control Your Comfort
Heat: up to 90%
Reduction of heat through your windows. With Rollashield Slimline Aluminium Shutters you control how much heat and glare comes through your windows and save money on air-conditioning.
Noise: up to 50%
Reduction of noise through your windows. With Rollashield Slimline Aluminium Shutters you control the noise from traffic, aircraft, noisy neighbours, barking dogs and lawnmowers.
Cold: up to 70%
Reduction of heat loss through your windows. With Rollashield Slimline Aluminium Shutters, Sydney home owners can keep the cold out and the warmth in. reduce your energy bills.
Privacy:
Enjoy you rprivacy from prying eyes and ears with aluminium shutters!
Control Your Security
All controls and locks on your Rollashield Slimline Aluminium Shutters are tailor made to your needs. Unlike bars, in case of fire, roller shutters are easy to open for a safe exit. They are also easy to roll down for maximum security when you are home or away. Most roller shutters can also be partially open to allow light and air flow while maintaining privacy and protection.
All shutters are manufactured from pre-painted milled aluminium. The aluminium strip is roll-formed to maximise the strength of each slat and provide insulation. At Rollashield, we manufacture the best aluminium shutters Sydney has to offer!
Many different profiles are manufactured. The diameter of the roll varies according to the product and the drop of the shutter. Our shutters are manufactured in our factory in Revesby, Sydney and installed by our personally trained professional installers. We guarantee all our products.
Summary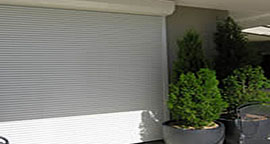 Author Rating





Brand Name
Product Name
Slimline Home Security Roller Shutters