The Aero 90 Plantation Louvre Shutters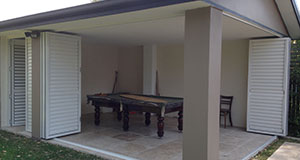 The Aero 90 is a 90mm double skin blade shaped like an aircraft wing. This shutter has been designed for the domestic high-rise installations alike with a unique anti-rattle design. This is without doubt the most technically advanced louvre shutter in Australia today.
Aero 90 profiles can also be located on the outside of the building and used as an awning style shutter. This style can also be hinged at the top and wind in and out from the inside.
How strong are our Plantation Louvre Shutters?
Cyclone testing has been conducted up to Cyclone Tracy forces.
Each louvre blade has been load tested to 100kg, making it the strongest on the market.
The blade has 135-degree rotation for total controlability.
Are they a good alternative to timber shutters?
All stainless steel fixings ensure that this is a once only investment and are a maintenance free alternative to timber shutters.